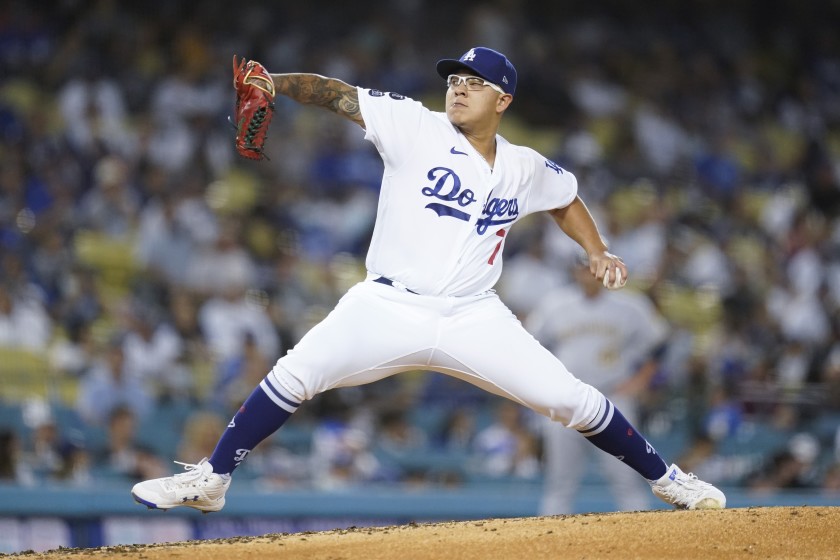 Below is a sample scouting plan I put together for hitters to attack Dodgers ace Julio Urias this past postseason. Inside includes notable statistics, patterns, and actionable strategies I thought would be beneficial for opposing teams.
All stats and video from Baseball Savant.
Notable Statistics
Pitch Distribution
47.8% FB
34.2% CB
17.3% CH
Started throwing CB way more (6.1% in 2019), FB less (57.8% in 2019). Hitters are are performing at a career-high rate against FB in '21 (.455 SLG against).
Run Value (RV)
RV CB 2021: -20
RV FB 2021: 1
2019 FB RV: -17 (big difference from '21)
Stuff
H break doubled on CB from 2019 (7.5" to 15.8" this year)
Seam shifted wake on all three pitches (45 deviation on CH, CB, -15 on FB, -30 on sinker)
Walking guys less (career-high 1.8 BB/9, 5.13 K/BB).
FB in zone 62% of the time, CB in zone 54% of the time, CH in zone 36% of the time. Won't throw CH glove side, a lot of bad arm side misses.
BB has two different shapes (all classified as CB on savant). One shape kills V break, more H break (16+). Other shape has more V break (4-6 typically), less H break (under 14).
55.1% of pitches in K zone (above league average of 49.9%)
67.7% line drives or fly balls. Doesn't really get hurt by long ball, however (hasn't had a season where HR/9 exceeded 0.9).
0-0, 1-0, 2-0, 3-0, 3-1 counts throwing primarily FB. Counts most likely to get a CB are 0-0, 1-2. CB whiffs happen primarily outside K zone (more on this below).
Actionable Thoughts
I wouldn't recommend an approach where you hunt breaking balls against Urias. His curveball is his most improved pitch since first debuting. It's really good. It has two different shapes (depends on where you look, some are classified as sliders). One is a little flatter, other is a banger/CB shape. Throws it predominately 0-0 and 1-2. Impressive slash, .181 wOBA against. Throwing it at a career-high clip (34.2%). For reference, threw pitch at 6.1% clip in 2019.
H break on pitch is biggest noticeable difference (doubled from 7.5" in 2019 to 15.8" this year). Can run it up to 3,000 rpm, most are in 2,800 range. Much firmer (+5 mph from '19). Good chance he decided to just start throwing the shit out of it and it got really nasty. Majority of whiffs are down and away, outside zone. Throws pitch in zone 54% of the time.

Toughest part is Urias has three pitches that get to three parts of the strike zone. Throws fastball up to disguise his CB well. Plus VB on pitch (seen anywhere from 17-20" VB). Mostly FB/CB pitcher (82%). Weird thing is he's one of the few pitchers who have thrown their fastball less and it's performing worse (will discuss more below). He's never thrown his four seam below a 50% clip. More of a glove side distribution when it was really good in '19. Now it's more middle.
If I were talking to an MLB hitting coach, I think your plan of attack has to be something along the lines of this:
Make him a two pitch pitcher. Change has pretty good slash, but it's landing in the zone 36% of the time. Drops slot a hair, ton of uncompetitive arm side misses. I'd spit on that pitch pretty much all night. If you're a lefty, you're not going to see CH (5.0% of time). Throws pitch more against RHH (21.7%).
FB is the pitch you hunt. I understand why it can be sneaky, but data doesn't suggest it's been effective for him this year. He can get crafty with this pitch (spin axis can deviate anywhere from 10:45 to 11:30, as low as 10:20, mostly in the 11:00 range). Has one where he really gets on top and one where he drops his slot a hair. Release height can vary anywhere from like 6'0 to 6'3.
While his FB in '19 was really good (run value of -17), it's not that good this year (run value +1, SLG .484, wOBA .348). Hard hit percentage (balls hit 95+) 38.1%. Works basically middle up with pitch. Not a ton of whiffs (21.1%). Gets hit when it's middle. Throws it in the zone 62% of the time.
I think one of the biggest reasons why Urias having a better year is because he's challenging guys more and walking guys less (BB/9 1.8, career best). You can see this with how he pitches to guys behind in the count. 1-0, 2-0, 3-0, 3-1 he's throwing damn near 75% heaters. Giants need to use this to their advantage. You're going to get a good heater to hit if you get into a plus count.
If you're going to hunt the CB, see it up. The ones that are getting hit are in the zone. Might be worth playing with this approach for lefties. They're seeing the pitch at a 44.3% clip. Need strategies to mitigate damage with this pitch. You're not going to barrel it up a ton.
Be aggressive early, cut the plate in half. He's going to throw glove side heaters, breaking ball will get to glove side part of plate. Don't get into counts where you're forced to make decisions on pitches that break outside the strike zone (where he gets all of his whiffs on CB).
Final Thought: Three times this year Urias has thrown more curveballs than fastballs. Two were against Giants, one was last outing against Brewers. If he follows pattern, hitters will continue to see less fastballs – especially against lineups that hit fastballs hard.