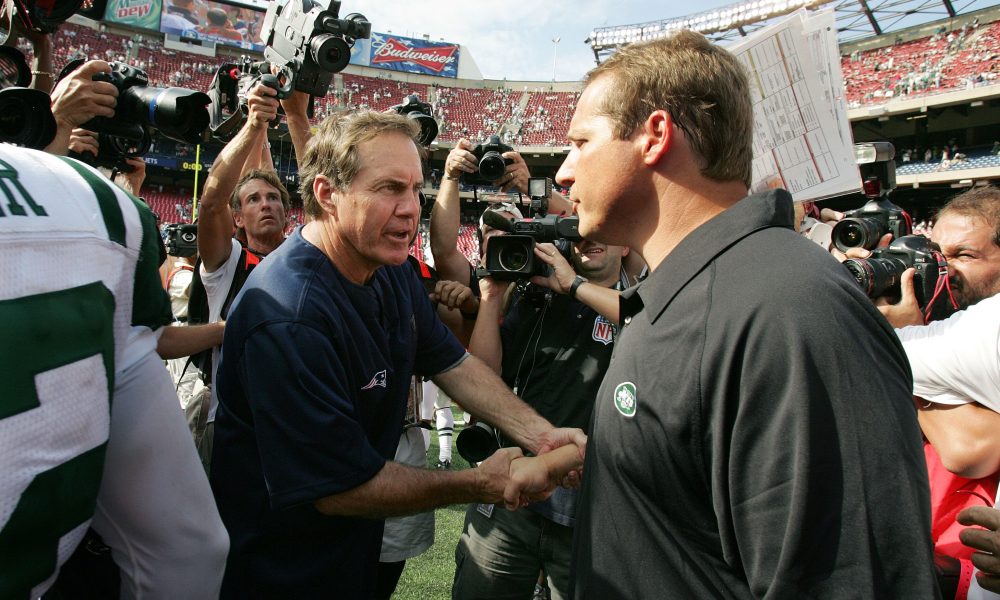 It was late in the 2009 NFL season.
The Cleveland Browns – who hadn't appeared in a playoff game since 2002 – were 1-11. At the end of week 17, twelve teams would be left to fight for football's most coveted trophy. For the seventh consecutive year, Cleveland would not be one of them. The drought would continue another year – which, to a lot of people, was all their newly-hired head coach Eric Mangini had left.
This was not the first rodeo for the "Mangenius". Back in 2006, the New York Jets hired Mangini as the youngest head coach in NFL history. He was 35 years old. Over the previous eleven seasons, he had become New England head coach Bill Belichick's most trusted assistant. He started with Belichick back in 1995 as a public relations intern for Cleveland. His admirable work ethic and reliability made a strong impression on Belichick – eventually earning a promotion to offensive assistant.
He followed Belichick all the way to New England, where he first worked as the defensive backs coach. In 2005, he was promoted to defensive coordinator. During their five years together in New England, the two won three Super Bowls in four years – going back-to-back in 2003 and 2004. They lost four combined games over the two year stretch. After failing to reach the Super Bowl for a third consecutive year in 2005, Mangini left to take the Jets job. It's the last time the two ever worked together.
Mangini's first year in New York was a brilliant success. The Jets finished 10-6 – winning four games just a season ago – and qualified for the AFC Wild Card playoff game. They lost (surprise) to Belichick's Patriots. The next two seasons weren't quite as romantic. In 2007, they went 4-12. In 2008, they missed the playoffs after starting 8-3. He was fired the day after the season ended.
Mangini received his next opportunity just weeks later when Cleveland penned him to a four year contract as its head coach in January 2009. It took a few months to realize the contract would never see its conclusion. Public criticism spilled over to the field. Cleveland wasn't just losing. They were getting blown out – losing seven of their first eleven by double digits – which is why new team president Mike Holmgren decided to step in and stop the bleeding.
Holmgren, like Mangini, had been a byproduct of a strong football culture in Bill Walsh's San Francisco 49ers. He started under Walsh in 1986 as quarterbacks coach, eventually earning a promotion to offensive coordinator in 1989. During his five year stint with the team, San Francisco won back-to-back Super Bowl bowls in 1988 and 1989. They churned out not one – but two – Hall of Fame quarterbacks in Steve Young and Joe Montana. In 1989, the 49ers offense ranked number one in the NFL.
At the conclusion of the 1991 season, Holmgren accepted his first ever head coaching position with Green Bay. He lead the team to two different Super Bowl appearances, defeating New England 35-21 in Super Bowl XXXI. He also lead Seattle to a Super Bowl appearance in 2005, eventually stepping down from the team in 2008. Late in 2009, he was instilled as team president of Cleveland with the goal of mentoring Mangini. He had experience handling the transition he was going through. He just couldn't quite grasp why it was so hard for Mangini to move on. A big part of it – as he eventually learned – was because the two had been inseparable.
Mangini and Belichick's relationship started long before they met. They both played football at Wesleyan College – a small Division III school in Central Connecticut. They both were a part of the same fraternity Chi Psi. Over the years, the two grew very close to each other. Belichick appreciated the work, dedication, and loyalty Mangini brought to the table on a consistent basis. Mangini appreciated the opportunity Belichick gave him in football; his efforts reciprocating this. When Mangini got married, Belichick gave a speech at his wedding. One of Mangini's kids – Luke William – is named after Bill. Going into 2005, Mangini turned down multiple coordinator jobs to stay in New England. In hindsight, he should have left long before then.
The question was never if Belichick could win games without Mangini. He was always going to win games because he was the system. The question was if Mangini could win games without Belichick. 2007 was the year we learned he could not. The three years that ensued only confirmed this.
…
When Belichick first got started into coaching, most people didn't take him seriously. They thought he was riding the coattails of his father Steve's coaching career. Belichick wasn't a great football player. He didn't graduate from a strong football college either, so he had to find different ways to create credibility. He came up with two. One, he was going to get really good at the things people hated doing – such as film study. Two, he wasn't going to be satisfied knowing just one element of the game. He was going to know all of it.
Belichick got his big break on the defensive side of the ball with former New York Giants head coach Bill Parcells. However, he was never just focused on defense. He wanted to know everything – offense, special teams, scouting. When he ascended to head coach, these responsibilities only grew. He was the chief strategist, team counselor, salary-cap economist (an important niche he discovered early on), community leader, and team spokesman – to name a few. Every person on staff had a detailed list of responsibilities they were held accountable to. These were all delegated by Belichick. Everyone in the building at all times knew exactly what they were supposed to be doing and when, which is where one of his most famous mantras grew from: "Do your job."
Mangini tried – but struggled – to recreate this level of organization in New York and Cleveland. He had difficulties with time management. He struggled to evaluate and draft wide receivers – something Belichick was notorious for. He tried to replicate Belichick's old practice of handing out "green balls" – wads of cash upwards of thousands of dollars. When word spread, Mangini was made aware by a team executive that the under the table money had to become aboveboard. This created a tax liability, which quickly defeated the purpose behind them.
Mangini wasn't Belichick – but to many he was trying to be. Holmgren recognized this. He knew Mangini had to find his own voice and encouraged him to, but didn't think it was that hard. After all, he had been a part of two different Super Bowl teams with Walsh. He coached in three more beyond his years with Walsh. Mangini had won three Super Bowls with New England, but he hadn't won anything on his own. He felt the pressure. He knew he had to change – rewriting old team policy and handling the media with more charisma. It just never worked out. At the end of the 2010 season, Mangini was terminated after another 5-11 season. It's the last head coaching position he ever held.
Since his departure from New England, Mangini and Belichick's relationship has never been the same. At the 2008 league meetings, Mangini's wife bumped into Belichick. She said hi, trying to ease the tension from the ongoing Spygate scandal. Belichick blew her off. When Mangini learned of this, he raced across the room – only to be held back by other coaches. He yelled, "Fuck you Bill!"
As for Belichick, he's been just fine without Mangini. Since 2005, he's won three Super Bowls (XLIX, LI, LIII), two NFL Coach of the Year awards (2007, 2010), and was named to the NFL 100th Anniversary All-Time Team. He currently holds all-time records in Super Bowl wins (6), Super Bowl appearances (9), and most playoff wins (31). His induction into the Pro Football Hall of Fame isn't a matter of if, but when. His days in coaching might be numbered, but his legacy is cemented. What Belichick did with New England will never be done again – and we'll be lucky if we see anything that comes close.
His coaching tree, on the other hand, has not been nearly as successful. You can go down the list – Josh McDaniels, Matt Patricia, Joe Judge, Romeo Crennel, Bill O'Brien. None have been able to recreate the success they shared when they were on the same sideline as Belichick. All of them were bright football minds and loyal workers. All of them had inside access to one of the greatest dynasties ever assembled in NFL history. None of them could recreate it on their own. With each failed hire, the message become more clear: Belichick's system was not designed to be replicated. He was the system.
Seth Wickersham – author of It's Better to be Feared: The New England Patriots Dynasty and the Pursuit of Greatness – said it best:
"You don't want to be part of a coaching tree. You want to be the guy who has a tree."
…
The hardest part about my internship with 108 Performance was not the actual internship.
Observing, learning, and approaching each day with an open mind was easy. The hard part was taking what I had learned and putting it into my own words. It was the transition from intern to coach. Early on, I got very good at identifying how Eugene or Will would handle a specific problem. When I first started to work with guys, I often tried to plug and play based on what I thought they would do. I didn't really learn how to coach until I got away from this.
Instead of trying to coach the way someone else would, I had to learn how to be myself. I had to take what I had consumed and filter it into a system and language I believed to be true. I had spent a lot of time learning a specific system, but it wasn't my system. Both Eugene and Will had found their own voice. I had to find mine, and it was no one's responsibility but my own.
It was the one responsibility Belichick left out of Mangini's job description.
Early on as a coach, the best thing you can do is approach your craft like a sponge: Soak up everything and anything from from people of various backgrounds, beliefs, and experiences. It doesn't mean you're always going to learn what to do. In many ways, you're going to learn what not to do – which plays a big part in the next part of this process: Figuring out what you're going to keep and what you're doing to discard. It's one of the most important things you'll ever do.
Ever since Mangini started coaching football, he only knew one system. How he consumed and filtered information wash largely dependent on his experiences being around Belichick. This became the problem. Belichick was brilliant, but he was a skilled manipulator. He knew how important it was to invest into young impressionable coaches, but he also knew how to move on from them fast. His attitude towards players reflected his attitude towards players: Everyone was a replaceable part. Mangini didn't realize this until he was forced to create his own version of "The Patriot Way." He had spent so much time learning Belichick's system he never learned how to create his own. When he needed to be vocal, his voice fell on deaf ears – largely, because it was never his own. It was Belichick's all along.
It's one thing to be a part of the system. It's another to have been the creator of it. Belichick's system wasn't built to create competitors. It was designed to dispose of them.
You don't learn this until you've been disposed of.
…
As you start to develop your own voice within a specific system of beliefs, remember Mangini's story. Your coaching style should not depend on one person or one way of thinking. It should represent the accumulation of interactions and influences you've gathered from many different backgrounds. You can't exercise good judgment on something you don't know exists.
We're all victims of our experiences. The best way to avoid this trap is by consciously building newer and better ones. Expose yourself to different opinions, theories, and ideas from people of all walks of life. Constantly challenge what you currently believe to be true. It takes time to build out your own unique system. It takes a village to get to the point where you can.
Mangini might have earned a Phd in "The Patriot Way", but it came at the expense of developing his own way. His career stagnated because of it, but yours doesn't have to. If you're just getting started as a coach – or, really, in any field – don't make Mangini's mistake. Surround yourself with many different influences. Learn from as many different people as you can – good and bad. Submerse yourself in different systems, beliefs, and opinions. You can only decipher what's useful until you've deciphered what's not useful. This requires exploration.
Don't just do one internship. Do as many as you can. Work in different environments with people from different walks of life. As you go through this process, refuse to let yourself become attached to a specific brand, product, or methodology. People shouldn't want to be coached by you because of what you're associated with. They should want your coaching because you're doing the coaching. You can't brand yourself if you can't speak for yourself – and you're always branding yourself. If you don't write your own autobiography, someone else will.
Don't let people read it if they know you didn't write it.